Secondary Programs
Holt Public Schools believes in a comprehensive model that provides flexible programming options for students. Our Secondary Programs are designed to allow students to discover their values, passion, and purpose (skill, interest, career, service). By doing so, they will be able to transition smoothly from their Holt High School experience to a two year/licensing program, a 4+ year program, or directly into a career.
Student Educational Development Plans help guide students as they explore their strengths, interests, and skills (also known as their "EDP" this is completed annually using Xello, an online tool). The work they complete in their EDP helps them understand how the personal values, interests, and skills they have now can translate to high-wage, high-demand occupations, and what the post-secondary educational path to get to that occupation might include.
Holt Public Schools strives to innovate, educate, and inspire our students to be the next great leaders in a 21st Century economy. The programming options you will find here are intentionally designed to fast-track students to college and/or a career in an area they have identified as an interest.
Educational Development Plans (EDPs) - Xello
Did you know that Holt Public has resources and tools for our students to discover their interests and abilities and apply them to their educational pathway? One of those tools is a new platform called Xello and is available to our students (grades 7-12) as they develop their Educational Development Plans (or EDPs). We believe when students become aware of their skills, abilities, and interests and can see how they translate to high-wage high-demand career fields and college programs, that many become increasingly engaged in their educational experience. Using Xello to complete EDPs is also a great way for students to discover how Holt's flexible programming options can position them to be uniquely prepared for their future college and/or career plans. Holt Public Schools strives to innovate, educate, and inspire our students to be the next great leaders in a 21st-century economy, utilizing Xello is one tool that can help our students in that pursuit.
If you have any issues using Xello you can get help on the Xello Support website.
Business Technology Programs
Our Business Technology department is proud to offer our students flexible programming that
prepares them to be leaders in a 21st-century economy. We offer six state-approved Career
Technical Education (CTE) courses that are delivered onsite at Holt High School.

CTE programs are aligned to meet industry demands and come with additional teaching
standards for schools. Because of this these programs typically offer college credit (via
concurrent enrollment or articulation) or industry certifications as outcomes of the course.
There is an intentional focus on soft skill development and preparing to be a young
professional.

CTE Program Flyer

CTE Business Technology Programs offered at Holt High School:

Computer Programming
Cybersecurity and Computer Networking
Finance/Accounting
Marketing
Business Management & Administration
Digital Media & Production
Business Technology Programs offer:

Added flexibility in graduation requirements (State-approved CTE courses can count for the second year of a foreign language (must complete the program), Senior Math credit, Technology requirement)
Opportunities for early college credits
Industry recognized certifications
Benefits of these programs include:

The opportunity to develop transferrable soft skills that are needed after high school
Early and advanced opportunities to earn college credit and save money through articulation & concurrent enrollment options
Opportunities to figure out what they are passionate about through self-discovery and post-secondary planning via Xello
Specialized clubs and group projects like DECA, mentoring, resume building, and Work-Based Learning.
Entrepreneurial competitions and guidance, students who have a startup concept typically receive seed funding in our programs
Hands-on-training in technology skills required to meet the needs of employers
Opportunities to build confidence and leadership skills through DECA, Interact Club, class projects, and business startup competitions
Scholarship opportunities for program completion
Training to meet the needs of careers listed in Michigan's Hot 50 High-Demand, High-Wage Careers publication & in the article 21 High-Paying Jobs of the Future
Work-Based Learning:

Work-Based Learning is also offered in the form of an internship, mentorship
and/or work experience.
Work-Based Learning is an educational strategy that provides students with
real-life work experiences where they can apply academic and technical
skills to develop their employability (see the work-based learning tab to learn more).
Energy Industry Fundamentals
Energy Industry Fundamentals (EIF) is an elective career pathway program in partnership with Michigan Energy Workforce Development Consortium, Consumers Energy, Power 4 America, and Lansing Board of Water and Light. Holt High School students can sign up for this first-semester class that enables them to get hands-on experience in the energy industry during their senior year. Students gain the skills and knowledge necessary for these types of careers in flexible learning environments, thanks to our program partners creating onsite learning experiences. This class can lead to an industry-recognized EIF Certification, articulated credit at Lansing Community College, and a second-semester work-based learning placement. The EIF program is an excellent first step for students into a high-demand, high-wage career in the Energy Industry.
Junior students can sign up for EIF at scheduling time, but will also need to complete an application and turn into EIF Teacher, Mr. Mark Frantz at North Campus or to Director of Secondary Programs, Mr. Lucas Schrauben in the counseling office at Holt High School.
Share your interest in the Energy Industry Fundamentals Program with us by completing this online form.
Greater Michigan Construction Academy

Did you know that Holt Public has a program for the student who is an aspiring builder, electrician, or skilled trades person? The Greater Michigan Construction Academy (or GMCA) is an educational pathway Holt Public offers to students who are interested in a career in the construction trades.
Construction trades offer high-wage high-demand careers and Holt Public Schools & GMCA want to help students become prepared in a skilled trade for a successful career of their own. Holt Public offers flexible learning environments for all students. Students in this program begin their day at the GMCA Lansing Campus for the first two hours of the school day and finish the remainder of the day at the Holt High School. This program is available to Juniors or Seniors and students must have their own transportation to and from the program.
If you're interested in learning more or signing up, please complete the online interest survey and we will let Mr. Schrauben know. If you're at Holt High School, you can also stop by the Counseling Office and ask to see him.
The 2020 Holt Aviation Academy Sign Up is now open!
Did you know that Boeing's new 2019-2038 Pilot and Technician Labor Outlook, one of the most recognized labor resources in the Aviation Industry, projects the need for 804,000 new pilots, 769,000 new maintenance technicians, and a total of over 2.1 million new aviation personnel needed in the next 20 years? Working backward, that is 296 new aviation professionals needed PER DAY, FOR 20 YEARS.
The Holt Aviation Academy is designed to help position our students to be able to take advantage of those high-wage high-demand job opportunities in the Aviation industry. Check out last year's highlight video!
Our program, open only to Holt High School students at this time, immerses students into the Aviation Industry. Students will complete Pilot Pathway classroom lessons that articulate to Great Lakes Flight Ventures if they pursue their Pilot's License. Students will also take field trips to Western Michigan University's nationally celebrated Aviation School, the Lansing Airport to visit a private jet and see what a career as a business pilot is like, as well Mason Airport to fly in a flight simulator and see airplane mechanics and the operations of a smaller airport.
Students can sign up to take the elective courses starting in the 2021-2022 school year.

FUTURISTIC FLIGHT: INTRO TO DRONES AND AVIATION (Course I)
INTRO TO FLIGHT – LEARNING TO FLY (Course II)
Next Steps:
Course request these electives at scheduling time and/or Sign up here to get more information!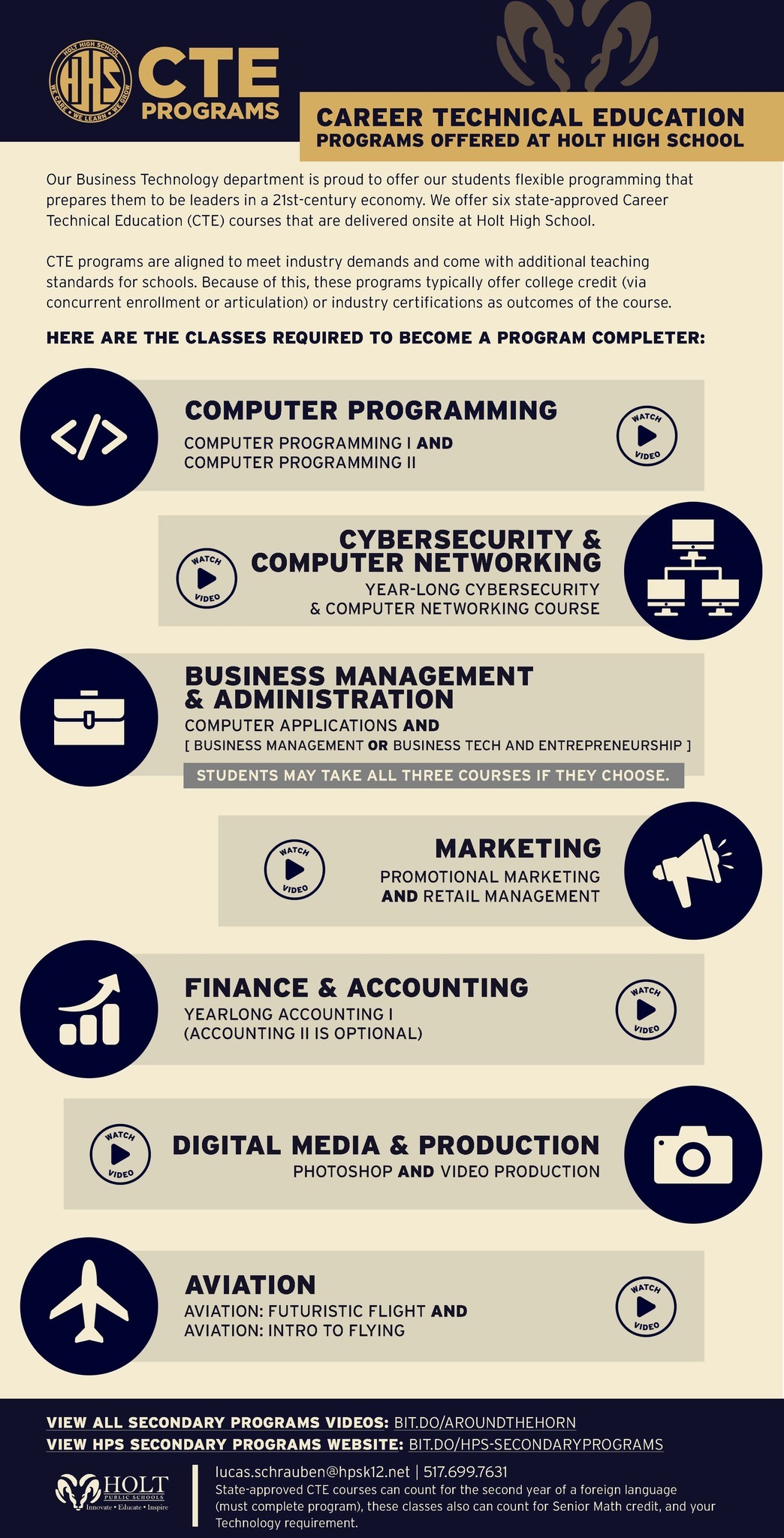 Holt Advantage (LCC Classes offered at HHS)


Today's students and their parents need options, including earning transferable college credit before high school graduation. With the cost of college higher than ever, we want to help meet that need for our learning community. At Holt High School, we offer several ways for students to earn college credit while in high school: we have a menu of AP classes, students can obtain articulated college credit via our Business Technology programs, and we also have Holt Advantage programming offered to students so they can take Lansing Community College courses onsite at the Holt Senior Campus.
Holt Advantage courses are administered by LCC and taught by LCC professors during the high school day at Holt Senior Campus. A Holt High School teacher is assigned to the class and is available to help guide students as they navigate their first college course.
Courses selected for the Holt Advantage program are part of the Master Transfer Agreement (MTA) (https://www.lcc.edu/academics/transfer/mta.html). They are highly transferable to colleges and universities, including specific general education courses in English Composition, Science, Math, Social Science, and Humanities. (Note: the receiving institution always determines transfer credit).
In 2021-2022 we will be offering:

English 121, Composition I – (4 credits): Composition I is the study and practice of expository discourse to help students write more effectively. It emphasizes the writing process, critical thinking, content development, organization, and style. Prerequisite: 480 on evidence-based reading & writing portion of the PSAT or SAT
Communications 130, Fundamentals of Public Speaking – (3 credits): Through practical experience, students will develop essential skills to feel confident researching, organizing, drafting, and delivering oral presentations. Attention will be given to accurate source citation and appropriate integration of presentational aids. Presentations will occur in informative, persuasive, and small group contexts. Prerequisite: 480 on evidence-based reading & writing portion of the PSAT or SAT
Math 120, College Algebra – (4 credits): This course is for students who do not intend to take MATH 122 or MATH 151 but may want to continue to MATH 141. Properties and graphs of linear, quadratic, polynomial, rational, exponential, and logarithmic functions, with an emphasis on applications including finance, business/industry, life, and social sciences. Prerequisite: 550 on the Math portion of the PSAT or SAT & a 480 on evidence-based reading & writing portion of the PSAT or SAT
Psychology 200, Introduction to Psychology – (4 credits): The basic orientation to the field of psychology, designed as a general survey and as preparation for advanced courses in the field. Topics include methods, nervous systems, intelligence, development, learning, memory, personality, abnormality, therapy, and social behavior. Prerequisite: 480 on evidence-based reading & writing portion of the PSAT or SAT
History 212, US History 1877 to Present – (4 credits): A political, legal, economic, social, and cultural history of the United States from the end of reconstruction to the present. Prerequisite: 480 on evidence-based reading & writing portion of the PSAT or SAT
Students will be eligible to take Holt Advantage courses if they meet the prerequisite requirements as outlined by LCC in the course descriptions (above) and have completed their Michigan Merit Curriculum (MMC) requirements. For example, students would be eligible to take English 121 after completing HHS English 9, 10, and 11 that they need for the MMC as outlined by the State of Michigan and securing a 480 on evidence-based reading and writing portion of the PSAT or SAT.
Typically, we see students dual enrolling in year 11 if they are part of Holt Early
College, or in year 12 if they are not part of Holt Early College.
If students are interested in taking Holt Advantage classes, they can course request these classes when they schedule classes annually in February. These courses can be found in the course guide under Special Programs.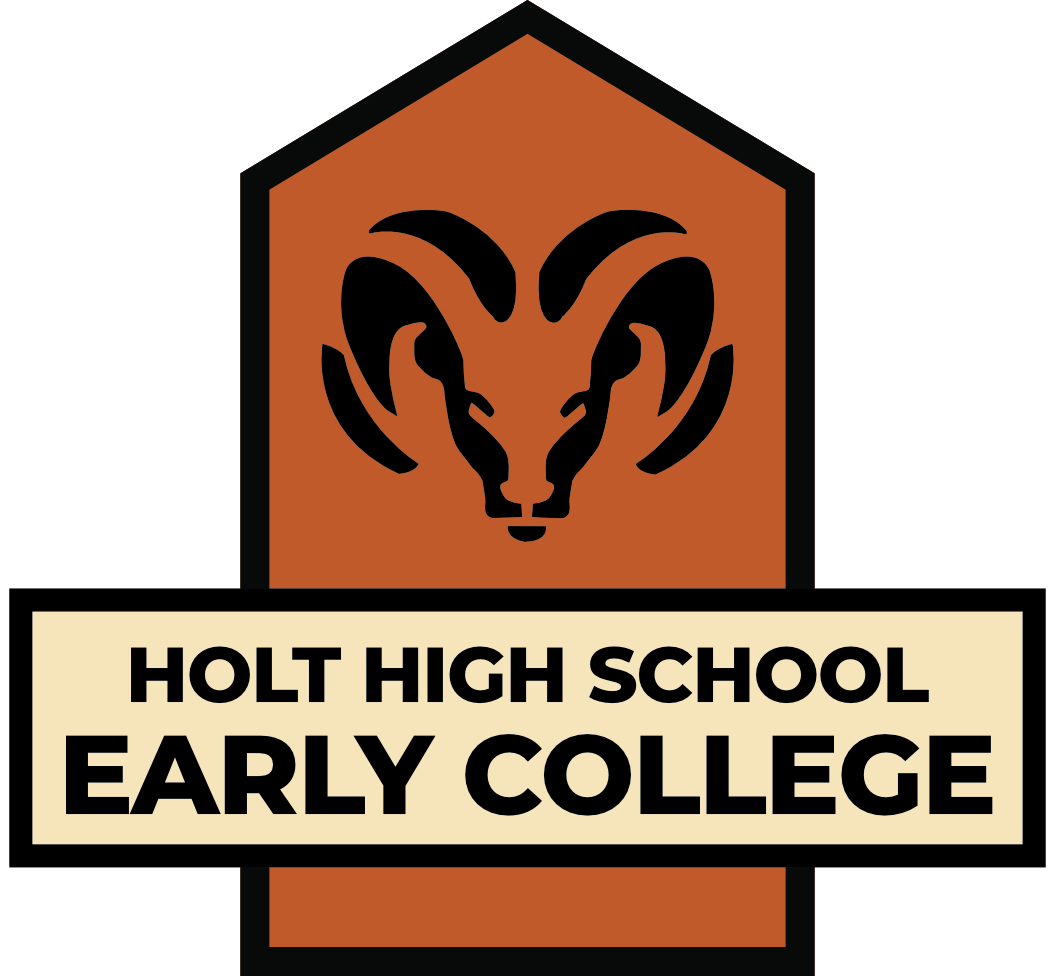 The cost of college is higher than ever, causing many young people to enter the workforce under burdensome debt. For many careers and professions, an associate or bachelor's degree is an essential requirement. The Holt Early is a program within our school designed to provide students a head start on their post-secondary college plans with tuition, fees, and books paid for by Holt Public Schools.
Built to challenge students and to maximize their potential, Holt Early College stresses self-discovery with college & career planning so that students can intentionally map out and plan their post-secondary pathway. We then couple those plans with rigorous academics and an accelerated, college-like class schedule. All the while providing wrap-around supports, mentors, and project-based learning experiences to help prepare our students to be proactive leaders and innovative thinkers long after they leave our Early College program.
What is Holt Early College?

Holt Early College is considered an Early College program within a school. Our post-secondary partners for our delivery are Lansing Community College and Davenport University.
This program provides students the opportunity to earn a career certification, complete the Master Transfer Agreement (MTA) at Lansing Community College, accrue transferrable college credits, and complete up to an Associate's Degree (Davenport University) while in high school.
Early College is a 3-year program that formally begins in a student's 11th grade year and extends their high school delivery by an additional year. Students apply to Holt Early College in the Fall of their 10th grade year.

10th grade year, students apply in the Fall and take Early College Prep in the Spring to help them prepare and decide if this program is the right fit for them. Students can pick up an application in the counseling office and they will also be emailed home to every 10th grader.
Years 11 and 12 are a combination of HHS courses and dual enrollment at LCC or Davenport University based on their program pathway they choose.
Year 13 is full time at LCC or Davenport University.
What are the benefits?

All college tuition, books, and fees are provided with little to no cost to the student or family for three years.
Wrap-around supports and curriculum to help students prepare to be successful in their post-high school journey.
Mentors at both the high school and college campus.
Smooth transition to the workforce or four-year university.
Who is the right fit?
Sophomores who:
Are on track for graduation
Have self-discipline
Are mature
Are personally motivated and demonstrate initiative to take responsibility for their behavior and learning
What about traditional high school events?

Students will be able to participate in all Holt High School related events and activities with their peers like normal. For example, this could include extra-curricular activities, clubs, prom, and graduation. That's the beauty of having an Early College program within a Comprehensive High School.
Students will walk at graduation after year 12 with their peers, and we recommend they hold their open house and have that celebration at that time.
Year 13, they will be reported as a Holt High School student and will have cohort meetings they will need to attend, but their academic courses will be full time at the college campus. They will have a math course in year 13 to fulfill their final year Math requirement, this can be taken at the college as well.
When and how will applications go out?

Applications are available in the high school counseling office in September annually.
Holt Early College information will be emailed to all Sophomore families in September annually. All you need to do is monitor your email and apply when the application window opens in the Fall.

Questions? Feel free to reach out to:
Lucas Schrauben
Director of Secondary Programs
Pre-Engineering (Project Lead The Way)
What is PLTW?
PLTW is an engineering curriculum that empowers students to step into the role of an engineer, adopt a problem-solving mindset, and make the leap from dreamers to doers. The program' s courses engage students in compelling, real-world challenges that help them become better collaborators and thinkers. Students take from the courses in-demand knowledge and skills they will use in high school and for the rest of their lives, on any career path they take.
Introduction to Engineering Design (1 year)
Students dig deep into the engineering design process, applying math, science, and engineering standards to hands-on projects. They work both individually and in teams to design solutions to a variety of problems using 3D modeling software, and use an engineering notebook to document their work. This class is open to all high school students.
Principles of Engineering (1 year)
Through problems that engage and challenge, students explore a broad range of engineering topics, including mechanisms, the strength of structures and materials, and automation. Students develop skills in problem solving, research, and design while learning strategies for design process documentation, collaboration, and presentation. This course is recommended for Juniors and Seniors and those who have taken Introduction to Engineering Design.
Engineering Design and Development (1 year)
The knowledge and skills students acquire throughout PLTW Engineering come together in Engineering Design and Development as they identify an issue and then research, design, and test a solution, ultimately presenting their solution to a panel of engineers. Students apply the professional skills they have developed to document a design process to standards, completing Engineering Design and Development ready to take on any post-secondary program or career. This course is for Juniors and Seniors is the capstone course for students who have completed both Introduction to Engineering Design and Principles of Engineering.
Students can sign up for these courses when they course request classes annually in February.