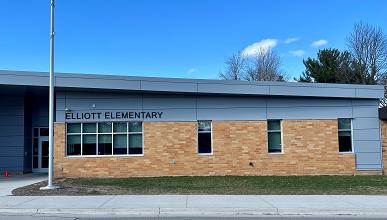 Elliott Elementary School
We are happy to have you visit the home of the Elliott Eagles, where students work hard to follow their Eagle I's, showing how much everyone C.A.R.E.S. These letters stand for I will Cooperate, I will Achieve, I will show Respect, I will show Effort, and I will be Safe.
Our web site is designed to give you information while highlighting unique programs at Elliott and to provide other interesting links for students to access.
Please feel free to request information or provide valuable comments as you continue your visit with us and learn more about what happens at Elliott. We will enjoy hearing from you. Thank you for visiting us on the net.
News & Updates

View Archives
Words from The Wise
Jan/Feb Principal's Report
Elliott Families,
As we are encroaching on mid-winter break and the second half of February, I'd like to share a few thoughts with our families.
Calendar
Calendar

‹

September

2020

›

S
M
T
W
T
F
S
1
2
3
4

Sep 4

Labor Day Holiday - No School

Calendar:

Traditional Calendar

5
6
7

Sep 7

Labor Day Holiday - No School

Calendar:

Traditional Calendar

8

Sep 8

School Resumes

Calendar:

Traditional Calendar

9
10
11
12
13
14

Sep 14

7:00 PM to 9:00 PM

Board of Education Meeting

Calendar:

Traditional Calendar

15
16
17
18
19
20
21
22
23
24
25
26
27
28

Sep 28

K-6 P/T Conferences

Calendar:

Traditional Calendar

29

Sep 29

K-6 P/T Conferences

Calendar:

Traditional Calendar

30

Sep 30

K-6 P/T Conferences

Calendar:

Traditional Calendar

7-8 Evening P/T Conferences

Calendar:

Traditional Calendar

Elliott Elementary School
4200 Bond Street
Holt, MI 48842
Phone: 517-699-2106
Fax: 517-699-3409
Andrew Wise

Principal
Erin Nimphie

Dean of Students
Kathleen Wilson

Secretary