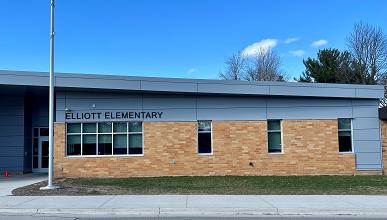 Elliott Elementary School
We are happy to have you visit the home of the Elliott Eagles, where students work hard to follow their Eagle I's, showing how much everyone C.A.R.E.S. These letters stand for I will Cooperate, I will Achieve, I will show Respect, I will show Effort, and I will be Safe.
Our web site is designed to give you information while highlighting unique programs at Elliott and to provide other interesting links for students to access.
Please feel free to request information or provide valuable comments as you continue your visit with us and learn more about what happens at Elliott. We will enjoy hearing from you. Thank you for visiting us on the net.
News & Updates

View Archives
Fall 2017 Survey Results & Responses
Following the District's annual fall survey of parents, teachers, and students; building administration, faculty, and staff reviewed their respective building submissions and generated lists of responses to stakeholder opinions and comments. Building leadership teams then identified successes and areas for improvements for their school teams. Please download and review the work of Elliott's Building Leadership Team in the attached document.
Links