Holt Education Foundation
The Holt Education Foundation, founded in 1993, is a non-profit organization that partners with Holt Public Schools to sponsor innovative and enhanced teaching and learning projects in our classrooms through competitive mini-grants. To date, over $396,000 in grants have been awarded! In addition, the Education Foundation awards the Margaret Livensparger Scholarship annually to a high school senior who has exhibited exceptional talent in the performing arts. If you have attended any of our annual fundraising events or supported our past projects, we thank you.
Please consider sending a donation today to the Holt Education Foundation, 5780 West Holt Rd., Holt, MI 48842. As schools struggle with uncertain funding, your gift, regardless of size, will continue to support educational opportunities for our students. The Holt Education Foundation is a 501(c)(3) Tax Exempt Organization (please consult your tax advisor for tax deduction information). Thank you again for your commitment to the students of Holt Public Schools.
To learn more about the HEF, downloadf our brochure and HEF Gift Form.
Annual Pre-Game Cookout
The Education Foundation's Annual pre-game Cookout was held on Thursday, August 24, 2017 starting at 5:00 p.m. in front of the stadium prior to the football game. We would like to thank everyone who came out and supported the Holt Rams in their first game of the school year (vs. the Grandville Bulldogs) as well as the Education Foundation by attending our Cookout! All proceeds benefit the Holt Education Foundation mini-grant award program. Thanks for joining us!
GO, RAMS!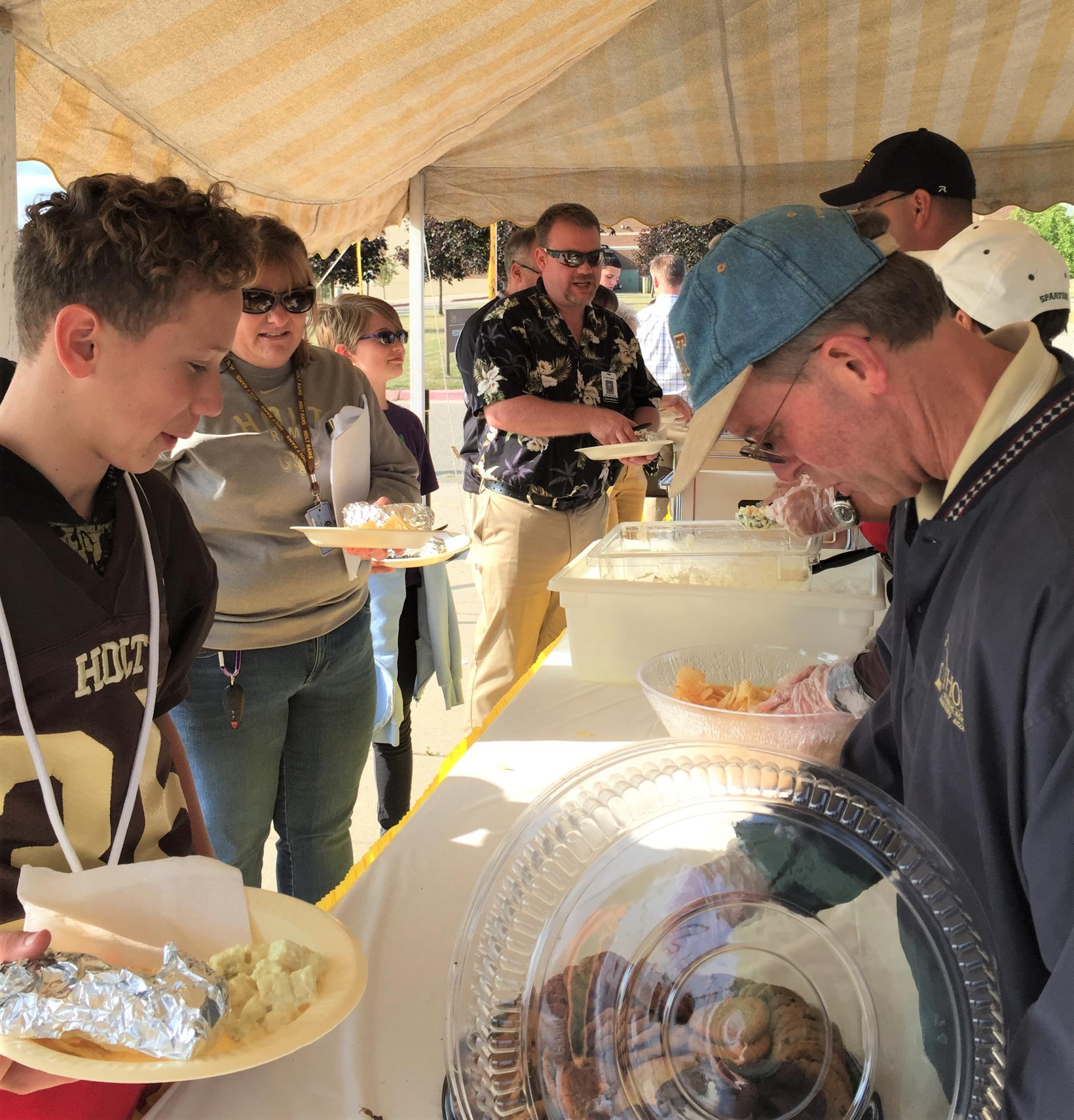 Attention Students: SAT Workshop/Practice Exam Scheduled
Two workshops have been scheduled this school year...10/14/17 and 3/10/18
The Education Foundation will offer two opportunities for our high school students to practice the SAT test in the coming school year. Workshops take place in the North Campus building. The cost is $30 per student, with net proceeds benefitting the Holt Education Foundation. Priority for Holt High School students is given until the registration deadline (4:00 p.m. the Wednesday before the workshop/practice exam date); and the registration fee also goes up slightly. Be sure to sign up early to reserve your seat!
The information/registration form is posted below, and copies of the form will be available in the high school counseling offices and the North Campus admin lobby.
Questions? Contact the Superintendent's office at SuptOfc@hpsk12.net or at 517-694-5715.
Download the SAT Workshop/Practice Exam Information/Registration Form
Mini-Grants
The Holt Education Foundation "Prize Patrol," made up of HEF board members, swept through the district in early November, handing out balloons and certificates to mini-grant awardees. This year, a total of almost $7,500 has been awarded to fund classroom projects to enhance student learning throughout the district! The district would like to thank the Holt Education Foundation volunteers who work year-round to raise funds for these worthy projects.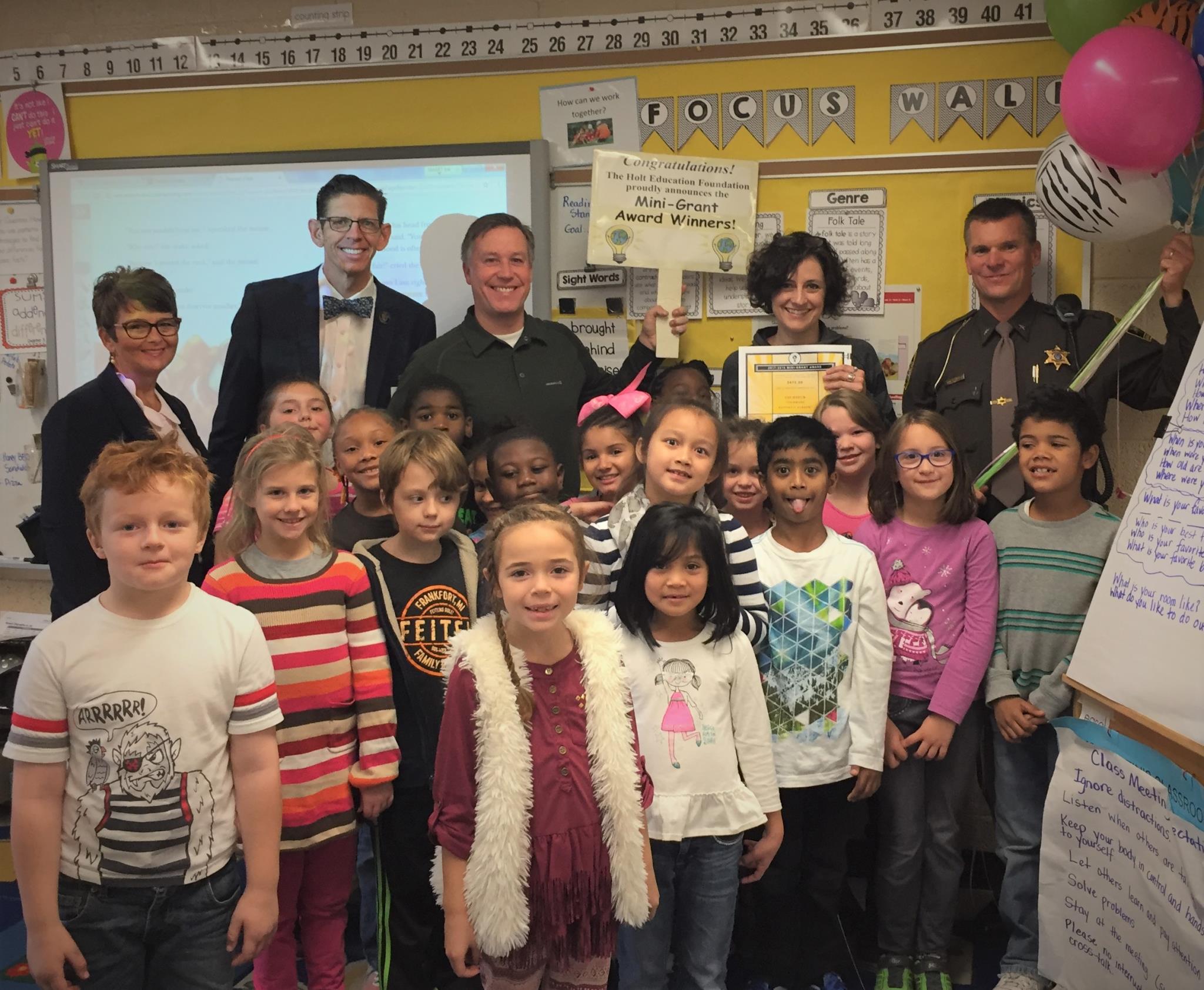 Annual Community Recognition Fundraiser Dinner
SAVE THE DATE! In March we begin our 25th year!
24th Annual Community Recognition Fundraiser Dinner - Wednesday, March 21, 2018
**Nomination forms for 2018 Outstanding Alumni, Community Volunteer and School Employee are now available! If you would like a form emailed to you as a Word document, please send us an email via SuptOfc@hpsk12.net. The submission deadline for nominations is 4:00 p.m. January 12, 2018. Don't delay!!
2018 HEF Outstanding Nominee Form
Please plan to join us on March 21st to honor those selected...more details to follow.
---
Our 2017 honorees are:
Outstanding Alumna: Stacie Mills VanDenBerghe (Class of '93)
Outstanding Community Member: Sheri Hefty
Outstanding School Employees: Ryan Anderson, Aurora Anstett, Josh Cooper, and Dave Hildebrandt
We would like to thank everyone who joined us in honoring these amazing people!
Margaret Livensparger Scholarship Award
The Holt Education Foundation announced Laura Schnepf as the winner of its Margaret Livensparger Scholarship Award for 2017-18. This two-year scholarship award is given in honor of Margaret Livensparger, who, among many other things, was a founding member of the Holt Education Foundation and a proponent of the arts.
Congratulations, Laura!