Welcome to

Holt Public Schools

Thank you for your interest in Holt Public Schools! We encourage you to tour our website and our schools. Here at Holt Public Schools, we are driven to maximize student learning by promoting positive behaviors and are most honored to serve you, embracing the opportunity to celebrate the past and inspire the future of Holt Public Schools!
District News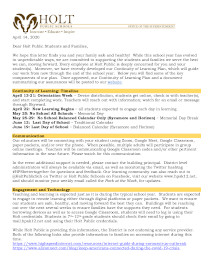 District Calendar
District Calendar

‹

May

2020

›

S
M
T
W
T
F
S
1
2
3
4
5
6

May 6

Late Start/Early Release

Calendar:

District Calendar

7
8
9
10
11
12
13

May 13

Late Start/Early Release

Calendar:

District Calendar

14
15
16
17
18
19
20

May 20

Late Start/Early Release

Calendar:

District Calendar

6:00 PM to 7:30 PM

Sex Education Advisory Board Meeting

Calendar:

District Calendar

21
22
23
24
25
26
27
28
29
30
31
Monthly Memo - Archives

Back to News
March 4, 2020
Snow Days
Snow Days ~ Annually, the State of Michigan offers up to six days of grace for inclement weather, extreme illness, and or mechanical failure days. In other words, our schools can be off six times each year when scheduled to be in session. When school districts exceed the six days, district leaders can appeal for up to three additional days. The additional three days off are rarely needed, but serve as an added safety guard. During the 2018-2019 school year, we were required to cancel school 11 times for inclement weather. You may recall we dealt with the Polar Vortex last year. A year ago, most school districts exceeded the maximum limit of inclement weather days, and the Governor signed a bill forgiving the three days when Michigan was placed into a State of Emergency. In the end, by adding the additional three State of Emergency days, last school year, school districts had 12-days available to use if needed. With that, several school districts in Michigan were required to be off over 20-days. Once a District cancelled more than 12-days last year, the District was required to add days to the school calendar or forfeit school funding. While Holt Public was not required to add days to the academic calendar last year due to the additional forgiven days, many school districts did.


February 9, 2020
Work/Life Balance
Did you know that Holt Public is the 50th largest district in the State of Michigan? Did you know that Holt Public has approximately 900 employees who serve over 5,550 students?
Non-Discrimination Policy
It is the policy of the Board of Education and the Holt Public Schools not to unlawfully discriminate on the basis of sex, race, color, national origin, religion, height, weight, marital status, handicap or disability. The District reaffirms its long-standing policy of compliance with all applicable federal and state laws and regulations prohibiting discrimination. For more information, please select a section below.