Facility Operations
Asbestos Notice
The Holt Public School District has conducted an extensive asbestos survey of all buildings and continues to monitor all remaining asbestos containing materials. This is accomplished through periodic surveillance and re-inspection every three years. Based on the findings of these inspections a management plan was drafted and is available for public review at each school building office, during normal business hours.
Integrated Pest Management Policy
This integrated pest management (IPM) policy applies to all pest control activities and pesticide use in the school building and related facilities including grounds. Recipients of this policy include faculty, other staff, or any employees monitoring or treating pest problems including any contractors who monitor and/or treat pest problems. Each recipient is required to follow this policy.
Purpose
The goal of this integrated pest management policy is to provide a safe and healthy learning environment that is relatively pest-free with the least possible use of pesticides. To achieve this goal, it is the policy of Holt Public Schools to develop, implement and maintain an integrated pest management program for the control of pests and minimize pesticide exposure to children, faculty, and staff. This policy is consistent with the State of Michigan's Act 451, Part 83 that encourages schools to adopt an IPM strategy. Sanitizers, germicides, disinfectants, or antimicrobials are exempt from the IPM /notification requirements. This policy adheres to the principles of IPM and is conducted in accordance with all federal and state laws and regulations and local ordinances.
Pests are controlled to protect the health and safety of students and staff, maintain a productive learning environment and maintain the integrity of school building and grounds. IPM is a pest management system that uses all suitable techniques in a total management system to prevent pests from reaching unacceptable levels or to reduce existing pest populations to acceptable levels while balancing the risk of the pest with the potential risk of the management technique.
Development of IPM program
The school IPM program written under this policy will state the school's goals regarding the management of pests and the use of pesticides. It will reflect the school's site-specific needs and includes the following elements as required by law:
Site evaluation, including site description, inspection, and monitoring and the concept of threshold levels.
Consideration of the relationship between pest biology and pest management methods
Consideration of all available pest management methods, including population. reduction techniques, such as mechanical, biological, and chemical techniques and pest prevention techniques, such as habitat modification.
Pest controls methods selection, including consideration of the impact on human health, especially for children, and the environment.
Continue evaluation of the integrated pest management program.
The Principal or Lead Administrator or designee for this public, charter or non-public school shall be responsible for ensuring that an IPM program is developed and is in compliance with Act 451, part 83.
IPM Coordinator
The Principal (or Lead Administrator) shall designate an integrated pest management coordinator, who is responsible for the implementation of the school integrated pest management policy. The IPM Coordinator, in accordance with Act 451, Part 83, can also be the schools' contact person 2 responsible for maintaining records with the specific information on pest infestation and actual pesticide application, and a copy of the school's IPM program.
Education /Training
The school community will be educated about potential pest problems and IPM methods used to achieve the pest management objectives. The IPM Coordinator, other school staff and pesticide applicators involved with implementation of the school IPM policy will be trained in appropriate components of IPM as it pertains to the school environment. Students, parents/guardians will be provided with information on this policy and instructed on how they can contribute to the success of the IPM program.
Record Keeping
Records of pesticide use shall be maintained on site to meet the requirements of the Michigan Dept. of Agriculture and the school board. Records shall also include, but are not limited to, pest surveillance data sheets and other non-pesticide pest management methods and practices utilized.
Notification/Posting
The Principal (or Lead Administrator) or IPM Coordinator of Holt Public Schools, is responsible for timely pre-notification to students' parents or guardians and the school staff of pesticide treatments pursuant to the requirements under the Natural Resources and Environmental Protection Act 451, Part 83.
Re-entry
In accordance with the Natural Resources and Environmental Protection Act 451, Part 83, reentry to a pesticide treated area may not occur less than 4 hours after application unless product label requires a longer reentry period. "Outdoor ornamental and turf applications of liquid spray pesticides shall not be made on school grounds within 100 feet of an occupied classroom during normal school hours or when persons are using the treatment area".
Pesticide applicators
The IPM coordinator shall ensure that pesticide applicators, all district staff, boosters and volunteers follow state regulations, including licensing requirements, applicator certification or registration, and IPM training, label precautions, and must comply with all components of the School IPM Policy.
Evaluation
Annually, for public schools, the Principal (or Lead Administrator) will report to the local school board on the effectiveness of the IPM plan and make recommendations for improvement as needed. For non-public schools and charter schools, the Principal (or Lead Administrator) shall report to their respective governing boards on the effectiveness of the school IPM plan and make recommendations for improvement as needed.
The Principal or Lead Administrator is responsible to develop guidelines/procedures for the implementation of this policy.
To request notification of pesticide applications, please submit an IPM Notification Request.
Open Requests for Proposals
Stormwater Management: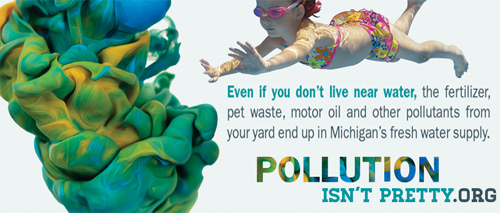 Holt Public Schools, Delhi Charter Township, and other area agencies will be working to help further protect our water resources as part of new EPA storm water management rules. Future plans will include everything from possible ordinances to protect wetlands to public education about what you can do to protect our precious water resources.
For even more information, visit the Greater Lansing Regional Committee for Stormwater Management Web Site.
Quarterly Newsletter

July 2018


April 2018


January 2018
Watershed Management Plans
Middle Grand River Watershed
Complete File
Introduction
Description of Watershed
Watershed Assessment
Identification of Pollutants - Sources and Causes
Prioritization of Water Quality
Achieving Water Quality Criteria
Implementation Plan
Information and Education Strategy
Measuring Progress
Sustainability
References and List of Appendices
Middle Grand River Watershed
Complete File
Introduction/Description
Water Quality Overview
Description of Subwatersheds
Goals and Objectives/Pollutants, Sources, Causes and Best Management Practices
Structural BMP Implementation Plan
Information and Education Strategy/Sustainability
Appendix A - Stakeholders
Appendix B - QAPP
Appendix C - Summary/E-coli Data
Appendix D - Windshield Survey Methodology
Appendix E - LLFWA
Appendix F - Policy Matrix Review
Questions or Comments?
If you have questions or would like to give input concerning the Delhi Township Stormwater Management Plan, call the Delhi Department of Public Works at (517) 699-3874 or send your comments in an email.

Public Education
Public Education Plan
Public Participation Plan
Stakeholder Workshop / Improving Water Quality in Your Community (PowerPoint Presentation)
Public Education Articles
Adopt your Catch Basin
Car Washing
Difference Between Storm Sewer and Sanitary Sewer
Fertilizer Use
It all Drains to Rivers, Streams and Lakes
Pet Waste
Septic Systems
Vehicle Maintenance
Waterside Properties
We all Live in a Watershed
What is a Wetland
Yard Waste Education
Your Local Watershed Group GLRC
Public Education Brochures (These brochures are ready to print and share)
Car Washing
Lawn Care
Motor Oil
Pet Care
Riparian Buffers
We all Live in a Watershed
Progress Reports
Prevent or Report pollution discharges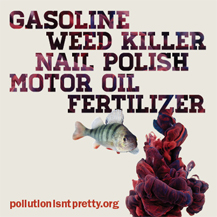 You might not be able to see the stream or lake from your house, but it's there! It might be a small stream or ditch or even a storm drain in the street. These lead directly to our lakes and streams. What we do at home affects our water. So, any oil, pet waste, leaves or dirty water from washing your car that enters a storm drain gets into our lakes and rivers without being treated. We all need to be aware of what goes into our storm drains.
An illicit discharge is anything that drains to a storm drain or directly to the river and is not stormwater. An illicit discharge can be an illegal pipe draining directly to the river, a failing onsite septic system, or even a spill that goes into the storm drain. As a community member, you play a large role in identifying and reducing illicit discharges in your community.
What Can You Do About Illicit Discharges?
You can help keep our lakes, rivers, streams, wetlands, and groundwater clean by applying the following tips.
Sweep it. Do you have extra fertilizer, grass clippings, or dirt on your driveway or sidewalk? Sweep it back onto your lawn. Hosing your driveway sends these pollutants into storm drains that lead directly to our lakes and rivers.
Keep it clean. Whether in the street or in your yard, remember to keep leaves, grass clippings, trash, and fertilizers away from storm drains.
Only rain in the drain. Never dump motor oil, chemicals, pet waste, dirty or soapy water, or anything else down the storm drain. All of these materials pollute our lakes and rivers!
Clean it. Clean up after your pet to reduce pet waste traveling to local waterways.
Dispose of it properly. Take household hazardous waste (paint, motor oil, etc.) to a local collection event.
Report pollution discharges
If you see someone dumping something into a storm drain, or see a direct connection to the river that may be pollution you are encouraged to report it. You can do this by contacting your local public works department. In Delhi Township you can call (517) 699-3874. In addition, you can contact the Michigan Pollution Emergency Alerting System (PEAS) at (800) 292-4706. PEAS is a 24 hour hotline managed by the Michigan Department of Environmental Quality and is used to report environmental pollution emergencies.
Links
Greater Lansing Regional Committee for Stormwater Management
Pollution Isn't Pretty
Environmental Protection Agency - Watershed Information Network
Michigan Department of Environmental Quality - Stormwater Program