Welcome to

Holt Public Schools

Thank you for your interest in Holt Public Schools! We encourage you to tour our website and our schools. Here at Holt Public Schools, we are driven to maximize student learning by promoting positive behaviors and are most honored to serve you, embracing the opportunity to celebrate the past and inspire the future of Holt Public Schools!
District News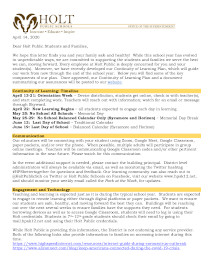 District Calendar
District Calendar

‹

May

2020

›

S
M
T
W
T
F
S
1
2
3
4
5
6

May 6

Late Start/Early Release

Calendar:

District Calendar

7
8
9
10
11
12
13

May 13

Late Start/Early Release

Calendar:

District Calendar

14
15
16
17
18
19
20

May 20

Late Start/Early Release

Calendar:

District Calendar

6:00 PM to 7:30 PM

Sex Education Advisory Board Meeting

Calendar:

District Calendar

21
22
23
24
25
26
27
28
29
30
31
Monthly Memo

View Archives
January 18, 2020
Old Education Center Demo
November 2019~ In 1967, Holt Public Schools built an office building to serve as the
Education Center for Central Office officials and the Board of Education to call home on Spahr Avenue. In 2003, the Board of Education and Central Office officials were relocated to what is now called the North Campus in an effort to consolidate operations. During that period, Holt Public offered alternative education programs that were located in a building on Cedar Street, which was leased by the District at a cost of $100,000 annually. Consequently, when the original Spahr Avenue property became vacant, our alternative education programs moved in. In 2017, our alternative programming moved into the North Campus thus vacating the Spahr Avenue building, which offered more options for all students at Holt Public schools. Over the years, Holt Public has attempted to lease and sell the building. The building has had many issues over the years including several floods, a leaky roof, and numerous electrical and plumbing issues. Finding a tenant or new owners has been challenging. As a result, since 2017, the building has been vacant.
January 1, 2020
Leadership Changes at HPS
October 2019 ~ The principal of Hope Middle School, Mrs. Jennifer Goodman was recently promoted to serve as the superintendent of Mar Lee School District in Calhoun County. Mrs. Goodman served as the Hope principal for the past ten years. In addition to serving as the principal, she has been working on completing her doctorate in educational leadership and she has been preparing for a leadership opportunity. Our learning community would like to wish her well and thank her for her ongoing leadership and service over the past ten years! "Mrs. Goodman is ready for this opportunity! She has been studying to become a superintendent for the past four years. She is a strong instructional leader," said Holt Public Superintendent, Dr. David G. Hornak.
Non-Discrimination Policy
It is the policy of the Board of Education and the Holt Public Schools not to unlawfully discriminate on the basis of sex, race, color, national origin, religion, height, weight, marital status, handicap or disability. The District reaffirms its long-standing policy of compliance with all applicable federal and state laws and regulations prohibiting discrimination. For more information, please select a section below.